Description
Tilta Float Handheld Gimbal Support System (GSS-T01-V)
The Tilta Float System works in conjunction with the DJI RS 2 and RS 3 Pro gimbals to provide a small, compact camera steadicam type of stabilizer system. This allows you to accomplish smooth cinematic camera movements with smaller camera setups. The counterweight-based post provides further stabilization for your setup beyond what the gimbal is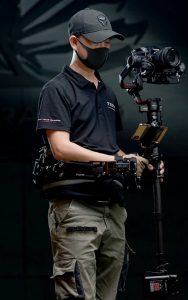 already doing to allow for the smoothest possible free flowing camera movement imaginable. Also, the spring-loaded arm and support vest design puts the weight of the rig onto your torso, allowing for longer operating times before the user gets fatigued.
Wide Range of Usage
Pairing with a gimbal is all you need in order to achieve all of the operating needs of the industry's newest stabilizer systems. You can easily switch between high and low modes.
Compact and Portable
When compared to the traditional Steadicam system, the Tilta Float System is built with carbon fiber and lightweight aluminum materials. The camera operator no longer needs to travel with heavy operating equipment. It sets your body free from the burden and extends the duration of operation.
This compact and inexpensive stabilizer system is quick and easy to assemble, pack, and transport.
Highly modular and detachable design. Each components can be purchased individually.
The Tilta Float System has the tightest integration with the DJI RS2 and DJI RS3 Pro gimbals. That being said, it also works with other gimbals, including the following: DJI Ronin-S, Feiyu AK4500, Moza Air, Moza AirCross and the Zhiyun Crane.
System Specs
Product dimensions: 835x345x210mm
Product weight: 10kg (Net Weight 7.5kg)
Materials: Carbon fiber, aluminum, plastic, and nylon fabric
Float System Support Vest
Vest Size: 600-1200mm
Extension: Built-in Tilta standard 15mm quick release baseplate.
Tilta Float System Arm
Connector post diameter: 12mm
Maximum payload capacity: 10kg
Up and down movement range: 800mm (±4300)
Float System Post
Material: Carbon fiber and aluminum
Mount: NATO rail
Power input/output: 2-pin LEMO
Length range: 500-1000mm
Tilta Wireless Thumb Controller for RS2
Cold shoe mount
2.4 GHz wireless module
Remote control range: 50-70m (Dependent on the location, there might be a slight
variance.) Uses GoPro HERO8 AHDBT-801 Battery (Not included)
Power Supply Solutions
1. V-mount battery
2. Gold mount battery (option)
3. DJI TB50 battery (option)
4. RS2 battery grip (option)
Kom 'm uit proberen in het Tilta Experience Center in Amsterdam-Duivendrecht.