Beschrijving
DJI RS 2 Pro Combo gimbal
DJI RS2 Combo is here, and we want to tell you all about it! Find out everything you need to know about this professional gimbal stabilizer for DSLR and compact cinema cameras, what's in the box, its features, and how you can benefit from adding this new DJI gimbal to your filmmaking arsenal.
What Is DJI RS 2 Combo?
DJI RS 2 Combo is an advanced camera gimbal that stabilizes cameras for smooth, shake-free footage. Simply attach and balance your camera, then begin filming. DJI RS 2 integrates seamlessly with most cameras so you can access parameters and features directly on the device's full-color touchscreen.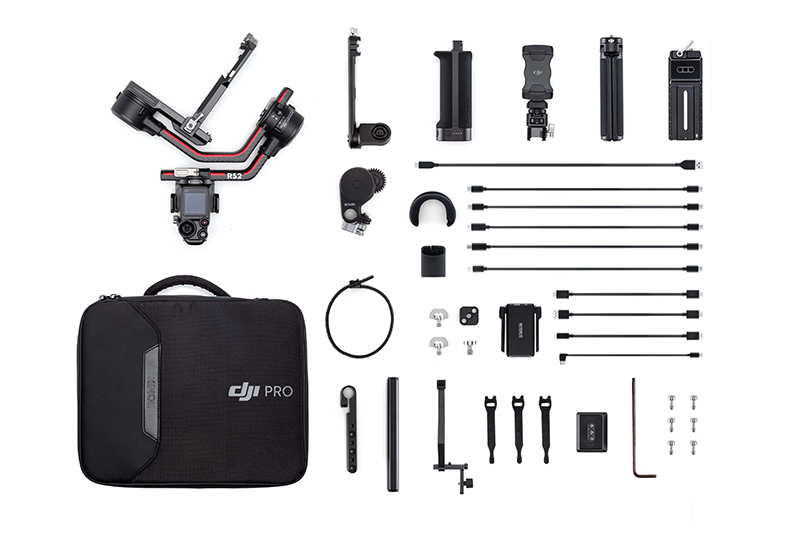 DJI RS 2 Features
Carbon Fiber Construction
DJI RS 2 is the first camera gimbal of its kind to integrate monocoque carbon fiber. By doing so, DJI RS 2 remains a featherlight 1.3 kg and has a tested payload of 4.5kg, offering the highest weight-to-payload performance in its gimbal class so that you can film with a pro-level setup all day.
Full Color Touchscreen
To expand filmmakers' abilities even further, DJI RS 2 has a 1.4-inch full-color touchscreen built right into the handle. This screen allows users to access gimbal and camera parameters, as well as get a live camera view for monitoring and using ActiveTrack 3.0.
Modular Design
DJI RS 2 is an excellent single-handed camera stabilizer, and with a modular design, it also mounts easily onto a vehicle, jib, slider, cable cam, and more. By outfitting its RSA ports as NATO mounts, DJI RS 2 is also compatible with a large variety of third-party accessories, letting users customize it in endless ways.
High Capacity Battery
The BG30 Grip on RS2 offers up to 12 hours of power, and fast charging lets it go from 0-80% in just one hour. The battery also has its own USB-C port so that it can charge without requiring mounting onto DJI RS 2.
DJI RS 2 Filmmaking Features
For filmmakers of every level, DJI RS 2 is equipped with intelligent features and advanced systems that bring a cinematic touch to your camera footage.
Titan Stabilization Algorithm
DJI RS 2 offers the latest DJI camera gimbal technology. Titan offers a stabilization boost called SuperSmooth, delivering smooth footage even when a camera is using a 100mm zoom lens.
RavenEye Image Transmission System
For more dynamic control, DJI RS 2 introduces the RavenEye Image Transmission System, which transmits a 1080p live view from the camera to your phone from up to 200 meters away at a latency as low as 60 ms. RavenEye also allows for camera parameter control right from the Ronin app, giving you more freedom to move while you capture your shot.
ActiveTrack 3.0
Speaking of RavenEye, one more thing it does is make ActiveTrack 3.0 possible, delivering the camera live view straight to the DJI RS 2 touchscreen. This allows you to select your subject right from the handle, which means you no longer need to mount a smartphone on top of the camera.
3D Focus System
For a new era of camera lens focusing, DJI RS 2 introduces the 3D Focus, a revolutionary system that uses infrared beams to constantly measure distance between a lens and subject. Using this method, an accurate focus is dialed in almost instantly, giving pinpoint autofocus to even large-aperture manual lenses.
DJI RS 2 Intelligent Functions
Creativity is at the heart of filmmaking, which is why DJI RS 2 delivers with intelligent features that let your shot match your vision.
Time Tunnel
The ever-popular 3D Roll feature is back, and this time it comes in a new form that is sure to blow your audience's mind. Time Tunnel takes 3D Roll and adds hyperlapse to create footage that is out of this world.
Force Mobile
With the Ronin app on your phone, all you need to do to control DJI RS 2 is move your phone. The gimbal follows every tilt and turn, letting you create an even more fluid shot.
One Tap Portrait Mode
With professional quality becoming a new standard for social media content, DJI RS 2 is prepared to switch the camera to portrait mode right from the touchscreen or Ronin app.