Beschrijving
Wireless Camera Control (Portkeys BM7II DS)
The Portkeys BM7II DS is a 7 inch (17.78cm) workhorse on-camera monitor, and expands
on the features of the BM5 III WR monitor. You will benefit from a crystal clear, daylight- viewable touchscreen display, 4 user assigned function buttons, a full suite of professional monitoring tools, the ability to control your camera wired or wirelessly, a variety of input ports, and new video monitoring capabilities.
A brightness of 2,200nits makes shooting outdoors in bright sunlight incredibly easy. The Portkeys BM7II DS has a FullHD resolution of 1920 x 1080, and a contrast ratio of 1000:1. The 10-bit (8+2 FRC) panel allows for more accurate color reproduction with rich color details and no color branding. Each of the Bm7II DS's display is factory color-calibrated, and passes strict hardware controls, ensuring the most accurate colors. By purchasing this monitor, you will benefit from a 100%, Rec.709 coverage, as well as an 85% coverage of DCI-P3 color spaces.
A Sturdy and Versatile device
An aluminum housing and toughened glass makes the display a sturdy piece of equipment.
On both the top and bottom of the monitor, you can find 1/4″-20 mounting points with locating holes. This adds versatility to mount the device in any position/place on your camera rig. A weight of only 460g/16.2oz is lighter than most alternative 7-inch monitors, and at times even lighter than some 5-inch monitors.
Despite all its features, the BM7II DC only uses 15W of power. At the back there is a built in dual Sony NP-F style battery plate for hot swapping capabilities. Only one battery is required to fully power the monitor. 2 industry-standard 7.4-24V power input ports are included. One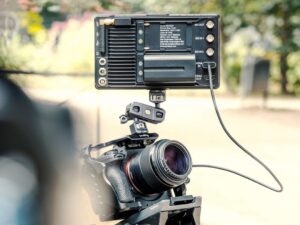 has a 2-pin LEMO connector, and one has a locking 5.5mm barrel connector (a D-Tap to locking 5.5mm barrel connector power cable is included).
The wide array of input/outputs include HDMI input/output ports, two 3G-SDI input ports, and one SDI output port. Additionally, the SDI video output with HDMI cross conversion ensures there is perfect video continuity, regardless of where the monitor is placed in the video signal chain. Finally, both the 3G-SDI and the HDMI can output a clean video feed. However, if needed, you can also output the video signal with a 3D LUT applied.
Due to the multiple video input/output ports, the monitor lets you view 2 video inputs simultaneously, thanks to the split screen feature. Additionally, many split screen modes are available. These include dual horizontal, dual vertical, left horizontal – right vertical, and left vertical – right horizontal. In addition to this, a left horizontal and right vertical cropping of the same source makes it easier to view your video in both 16:9 and 9:16 aspect ratios. This is especially useful when filming videos for social media.
A variety of Monitoring tools
The Portkeys BM7II DS comes with all kinds of features one can expect to find on professional on-camera monitors. These include:
A high-precision Waveform can be displayed full screen.

Additionally, Waveform SDI output is also possible.

Zebra and Histogram tools are also available.

3D LUT monitoring and 3D LUT HDMI/SDI output.

Custom LUTs can be loaded via the USB port at the bottom of the monitor, as well as the included USB key.

Monitoring tools can be set before or after the 3D LUT.

User-defined and ARRI False Color mode.

When using the user-defined mode, IRE values ​​​​​​​​​​​​can be set freely.

Thanks to a new Peaking algorithm, you can nail focus easily.

Additionally, a Peaking Frame mode can be activated only to apply Peaking to a defined image zone.

Finally a Zooming feature is also available.

Framing guides, aspects and grids

Image Capture and Overlay.

Image Capture takes a snapshot of the SDI or HDMI video input (if desired, combined with a LUT) and saves it to the monitor's memory.

Afterwards, the Image Overlay's opacity/transparency can be set.

This feature is useful for shot matching (continuity) or an easy overview of the day's shots.

Anamorphic image de-squeeze with all the standard ratios (1.33x, 1.5x, 2.0x), as well as the possibility to enter a custom aspect ratio from 0.25 to 4.0x

Audio monitoring and meters via the 3.5mm headphone jack

Tint, chroma, backlight, brightness, sharpness, and color temperature adjustments
Wired/Wirelessly control all kinds of cameras
A 2.4 GHz Wifi antenna placed on the back of the monitor can wirelessly connect to the RED Komondo/V-RAPTOR.

Camera settings can be directly changed from the monitor, and even touch to focus

Additionally, the camera control and Wifi connection functions are compatible with a variety of Sony cameras, including the Sony A7S III, A7M IV, A7M III, A1, A9II, A7C, FX3, FX30, RX10, and RX0.

The monitor supports camera control and Bluetooth connection for Blackmagic Design users with the BMPCC $k, 6K, and 6K Pro.

Furthermore, wired control is available for multiple Canon, Panasonic, Sony, BMD, and ZCAM E2 cameras.
*NOTE: Wireless control does not mean wireless video transmission; the video signal cable must be connected* 
If you have any problems or questions, feel free to contact us. Or drop us a DM on Instagram or Facebook.