Het produceren van een televisieprogramma, (bedrijfs-) film of commercial begint bij registratie op de set, in de studio of bij een live event. Hierbij zijn camera's, lenzen, statieven, viewfinders, geluid, recorders, belichting etc. nodig. Socrates levert een compleet aanbod aan producten en oplossingen.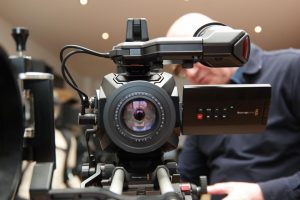 Een aparte productgroep hierbij zijn de live switchers waarmee multi camera evenementen kunnen worden geregistreerd en live gestreamd op internet. Socrates levert complete turnkey sets ingebouwd in flight cases en voorzien van camera's, geluid, belichting en bekabeling.
Wij voeren merken van onder andere Blackmagic, Sony, Cartoni, Samyang, Zeiss, SLR Magic, Panasonic, AJA, Manfrotto.
Veel apparatuur hebben wij in onze showroom aanwezig en kan bij ons worden bekeken en getest. Daarnaast is het mogelijk om onze demo apparatuur onder bepaalde condities te testen op locatie. Neem contact op voor meer informatie.