Maxon Cinema 4D Broadcast R20
Maxon Cinema 4D Broadcast R20 is een versie speciaal voor motion graphic designers, bevat niet alle features die in de Studio R20 zitten en is dus ook goedkoper.

Cinema 4D Volume Modeling
Met Volume Modeling maak je complexe modellen door basisvormen toe te voegen of weg te halen in booleaanse operaties met behulp van OpenVDB-gebaseerde Volume Builder en Mesher. Bouw structureel organische of harde oppervlakten met elk Cinema 4D-object inclusief nieuwe Field-objecten. Volumes kunnen worden geëxporteerd in de volgorde van de .vdb-indeling voor gebruik in elke toepassing of render engine die OpenVDB ondersteunt.
Maxon Cinema 4D Studio R2 MoGraph Fields
MoGraph Fields heeft een geheel nieuwe manier om effecten te definiëren door fall-offs te combineren van eenvoudige vormen tot shaders of geluiden en objecten en formules. MoGraph Fields stapelen door middel van mixing modes en effecten opnieuw toewijzen. Groepeer meerdere velden en gebruik ze om effectors, deformers, gewichten etc. te beheren.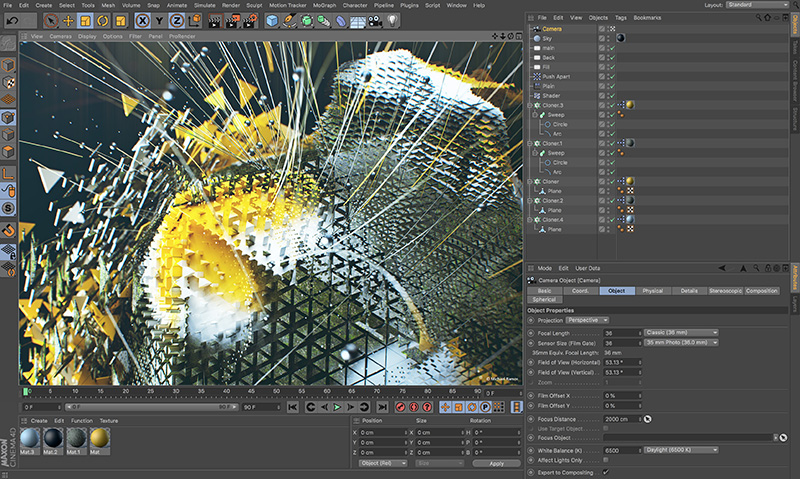 Cinema 4D Broadcast R20 kopen
Cinema 4D Broadcast R20 in verkrijgbaar in verschillende configuraties. Je kan een standalone licentie kopen maar ook kiezen voor een floating netwerk licentie. Voor beide licenties raden we je aan een MAXON Service Agreement (MSA) af te sluiten. Met een MSA verzeker je, je van support een online 3D portfoliio en een upgrade naar de volgende versie van C4D Broadcast. Voor een  floating netwerk licentie is een MAXON License Server met een MSA noodzakelijk.