The Tilta cage for Sony a7s III is available. The Sony A7S III camera is specially made for videographers who want excellent performance at little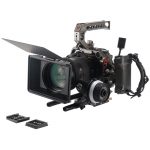 require light. The a7s III builds on the Sony a7s II.
Tilta jumps in on the success of the Sony by coming up with a very flexible and modular cage for the Sony a7s III. The cages are part of the successful Tiltaing program of cages and accessories especially intended for DSLR and system cameras.
Together with the many accessories from the Tiltaing program, the number of combinations is virtually unlimited. Which combination is the right one depends on the use. To make the choice easier, 8 different kits have been put together. The kits vary from a half or full cage to the most extensive version provided with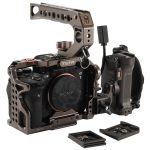 a Mini Matte box and Mini Follow Focus.
The new cage is designed to expand and protect the a7s III, as well as to add accessories. Accessories such as the new rotating top handle, rotating side handles, standard ARRI rosettes and much more.
The Cage starts at just € 45 * for the half cage and € 110 * for the Full Cage available in both Tilta Gray, Tactical Gray and Black (the last 2 colors only on order).
Click HERE for the different cages.
Scroll down for photos.