Tilta Movie Carts
NO LONGER AVAILABLE: Tilta's Film Carts were available in 3 sizes in addition to which many accessories were available.
Tilta Movie Carts
The Tilta Film Carts were multifunctional carts with which camera and DIT equipment could be moved or built up. The Carts have two platforms one above the other and are sturdy and compact. The Film Cart can be easily disassembled and is therefore easy to take with you.
Various applications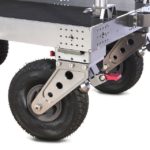 The two fabric covered trays on the Tilta Film Cart provide plenty of space to carry equipment. The four 10 inch (medium and large size carts) and 8 inch (small size cart) pneumatic tires, two of which are fixed and two rotatable, provide necessary damping during transport, of course, there is a brake on the two swivel wheels, so that the Tilta Film Cart does not will lead its own way on sloping surfaces. With the optional support legs, the karts can be securely anchored when using heavy equipment.
The Cart is ideal for the Digital Imaging Technicians (DITs); one of the long edges of the top platform can be folded down for easy operation of a keyboard and mouse. In addition, it becomes easier to lift heavier equipment on the Cart.
Accessories
Various accessories are available for the Tilta Film Carts, including a hinged monitor arm with Vesa mount, Steadycam support, tripod holder and a 100 and 150 mm tripod bowl. Tilta is continuously working on new accessories, making the applicability even greater. This includes a large Sun-Hood for DITs, dolly track wheel set and V-mount charging plate on which several V-mount batteries can be charged simultaneously.TT-TCA01 – Small versionThe Tilta Film Cart (TT-TCA01) is a versatile solution for transporting cameras, gimbals, recording equipment or a field monitor. This TT-TCA01 has a size of 95 cm by 51 cm wide and height of 91 cm, the Tilta Film Cart weighs 38 kg.TT-TCA02 – Medium version
The Tilta Film Cart (TT-TCA02) has a size of 110 cm wide by 62 cm deep and a height of 95 cm, the Tilta Film Cart weighs 45 kg.
TT-TCA03 - Large version
The Tilta Film Cart TT-TCA03 has a size of 139 cm wide by 62 cm deep and a height of 95 cm, the Tilta Film Cart weighs 49 kg.
Tilta Film Carts accessories
Tilta TT-TCA01-RA 3 axis gimbal resting armTilta TT-TCA-TSF01 Tripod support frameTilta TT-TCA-SRA01 Stedicam Resting armTilta TT-TCA01-CS-100 100mm tripod head support bowl + CradlTilta TT-TCA-CHS01 Cradle head support poleTilta TT-TCA01-LS Landing support frame*2Tilta TT-TCA01-MS Universal monitor support for Film CartTilta Film Cart unboxingWant to know more about the Tilta Film Carts?