Description
DaVinci Resolve Speed ​​Editor
The Speed ​​Editor is the smaller brother of the Davinci Resolve Editor Keyboard. However, it does not sacrifice functionality for mounting. The difference is the lack of the keyboard. But this makes the Speed ​​Editor more manageable and you can choose a suitable QWERTY keyboard yourself.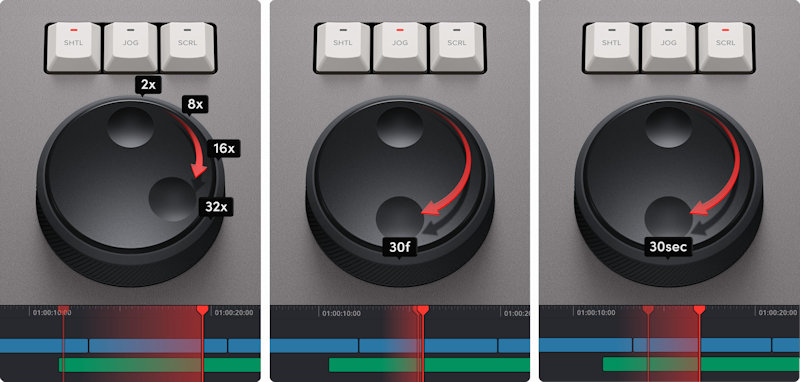 The jog shuttle lets you easily shuttle, jog, trim precisely and scroll through your timeline. Searching through your media pool clips is of course also part of this.
If you work a lot with Resolve for editing, this is the tool to significantly increase your productivity. Especially on the Cut page. Quickly find in and out points and add clips to the timeline. Entering in and out points is the most commonly used function when editing. Because the Speed ​​editor's keyboard has large in and out point buttons that you can easily find by feel. That's perfect for two-handed editing, where you use your right hand for transport control and your left hand places in and out points and edits.
Scroll
Simply scroll with the search button and place in and out points wherever you want! Once the in and out points are set, just reach your fingers for the function buttons to perform the operation. The in and out points can also be used to focus the source tape. Then you can return the source tape to bin by pressing the escape key.
Connect the Editor via the USB-C port (cable not included). This will also charge it. As well as wirelessly via the Bluetooth connection.
NOTES: The Editor comes with a FREE full version of Resolve Studio! So you save € 315 ex VAT. That's almost for nothing!
Everything has really been thought of.
Socrates is Authorized Reseller of Blackmagic Design DaVinci Resolve Studio