BLACKMAGIC PRODUCT BONANZA
Last night we sat in front of the "tube" to see what Grant Petty of Blackmagic Design had in store for us. And it was not little. No less than 6 new products were announced. Not just any updates, but serious new products.
Here is an overview. For more details, visit product pages or the Blackmagic Design website.
We expect to receive the first in small batches next week. First Come First Serve.
Pocket Cinema Camera 6K Pro
Most important new features compared to the existing Pocket Cinema Camera 6K:
Gen 5 color science
High Bright screen with tilt
NPF battery, more power
ND-Filter built-in automatic
2x audio input mini XLR (phantom)
Price: € 2.135 excl. VAT
Blackmagic Pocket Cinema Camera Pro EVF
Finally an EVF for the Pocket Camera.
Status information
focus chart
Price: € 485 excl. VAT
Black Magic Pocket Battery Grip
Add up to 2 hours or non-stop recording with this new Pocket Camera Battery Grip. Because the existing battery compartment is not used, the battery extender can be fitted with new batteries without the camera.
Price: € 129 excl. VAT
ATEM Mini Extreme
Similar to the ATEM Mini Pro but with 8 channels and more functions such as 4 chroma keyers.
8 HDMI inputs with standards conversion
2 USB connections (recording & phone tethering)
2 HDMI output (selectable multiview and output)
4 advanced chroma keys
Camera control (iris, gain, black, level, focus (autofocus))
Price: € 875 excl. VAT
ATEM Mini Extreme ISO
Everything from the Extreme but with the possibility to record 9 channels, 8 inputs and the program video output, real time on a disc. Because a Davince Resolve Project files are also created, post-processing is a piece of cake.
Price: € 1.139 excl. VAT
Web Presenter HD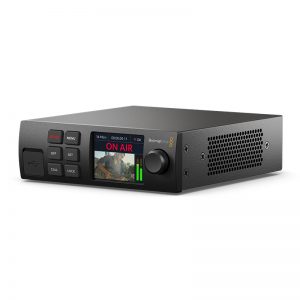 Live stream 12G-SDI video directly to platforms such as YouTube, Facebook, Twitter and more via the webcam USB output. Streaming via Ethernet and 4G or 5G is also possible. This Web Presenter replaces the existing Web Presenter.
Price: 439,00 excluding VAT